DMA FINAL LAUNCH 2013 - SYDNEY
DMA Launch Sydney late 2013
December 17, 2013
Categories:

DMA Launch
December 2013 has resulted in a busy end to the Calendar year for Dental Members Australia. A final Launch in Sydney on our national roll out tour witnessed another Evening of DMA Education with our "Connecting Communities" Seminar, (Photo Below). Many leading Sydney practices and groups attended the presentation and an enjoyable and insightful evening was had by all through gathered feedback.
The DMA Team looks forward to continuing to make a positive difference with you and your practice whilst ensuring win: win outcomes for your valued patients in 2014.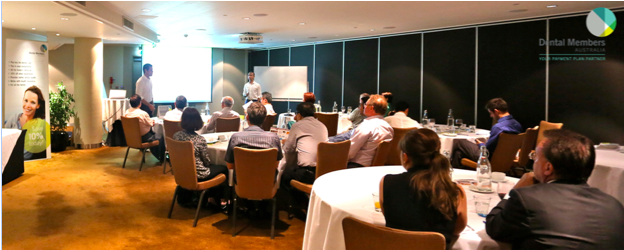 Greg Satell a popular digital innovations contributor in Forbes recently wrote:
"The most salient aspect of technology is its power to disrupt. The important innovations are the ones that change our world so profoundly that the previous order becomes not only untenable, but unthinkable. Yet the true impact begins not with invention, but adoption. That's when the second and third-order effects kick in. After all, the automobile was important not because it ended travel by horse, but because it created suburbs, gas stations and shopping malls."
At DMA we believe we have a solution for those early adopters who are seeking a competitive advantage. Growing a loyal patient membership base through a cloud technology platform is efficient, effective and non-labour intensive. Like never before in the dental sector, both patient and practitioner are connected through newly established and mutually beneficial goals and extended rewards.
To all our DMA Partnering Practices and Partnering Groups we would like to take the time to thank you for your support in 2013 and we wish you a very merry Christmas and a safe a prosperous new year.