Through the Lens of an Oral Health Therapist: "Everyone Should Have Access to Great Dentistry!"
Through the Lens of an Oral Health Therapist: "Everyone Should Have Access to Great Dentistry!"
June 07, 2014
Categories:

Case Study
A mother of four, quite distraught, entered the dental practice I work within. One of her children, her little princess, needed quite a substantial amount of dental treatment done. Her beautiful little girl was in pain!
The mother had enquired through the public system, but unfortunately there was a very long waiting list, as she didn't have a health care card. Arriving at the practice the mother was worried that she could not afford to pay for the necessary treatment upfront. She didn't have private health insurance and like many of us she had a mortgage, numerous bills and school fees to pay.
We presented the mother the option of a membership payment plan where she could budget the cost of her daughters treatment across eight weeks. She was so happy and appreciative that we could offer her such an affordable option. Needless to say, as an allied health care professional, I was first and foremost focused to rid her little princess of pain and secondly, extremely fortunate to work in a leading practice providing such membership options. I am proud to work in a dental practice that is reducing the barriers of affordability and creating accessibility to all.
We have a clear motto in our practice; "Everyone should have access to great dentistry". All of my colleagues I study and practice with believe in the same core principles and share the same ethics and morals, however I have learnt in my short time practicing that the cost of providing great dentistry is not cheap for the practice owner. We don't believe in turning patients away and don't believe a patient should be in a position to be paying off interest on credit card debt. The fundamental difference in our practice is that we have access to and have been using the Dental Members Australia membership platform for over two years. This means I safely never have to turn any patients away!
So, at the completion of her daughter's treatment plan the mother also decided to sign the rest of the family to the 'Membership Family Care Plan'. Now she could budget the family's preventive dental care, to ensure that she is never in the same position again.
I love my job, especially when we can help provide care to such a lovely family! I love that I work in a practice that is a Dental Members Australia partnering practice!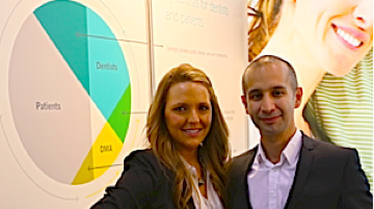 / At the Central Dentists Springfield Lakes Practice with Dr Safa Souzani